How to customize website with Jagole handcrafted theme.
The theme determines the overall layout and design of your site. But Jagole themes don't just change the look and feel of your site, they can also add new features such as a unique home page layout, interactive post sliders, and more :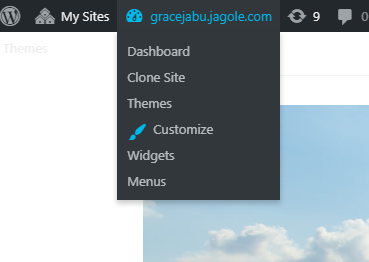 To customize your website, go to your website name and then click Customize.
Through this sidebar, you can edit or style your header, widget, menu, font type, colour and more.
Style and edit Top Bar.
Customize > Header > Presets
Change Site logo & Site identity.
Customize > Header > Site logo & site identity
Change your website font style.
Customize > Style > typography
Style and edit Blog Page
Customize > Blog
Style and edit Shop Page
Customize > Shop
Change your website layout.
Customize > Layout
Style and setting footer and widget
Customize > Footer/widget